Written by nguyen
Saturday, 28 February 2004 00:00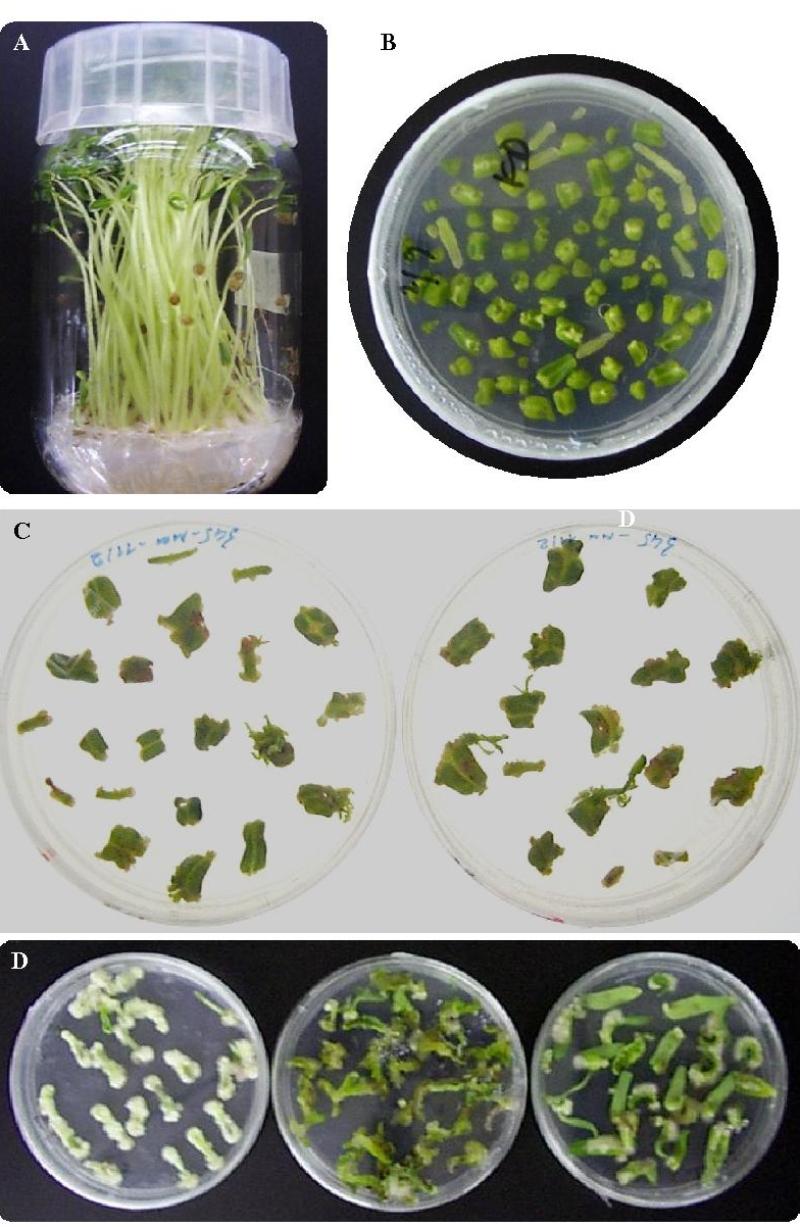 A.     Germination of tomato seed.
B.     Co-culture of cotyledons with Agrobacterium on MS (kinetin 2mg/l)
C.     Selection and regeneration of tomato after co-culture on MS (100mg kanamycin/l) from cotyledon and hypocotyls.
D.     Control regeneration from hypocotyls (left), and cotyledons (right)
A. Shoot regenerated from cotyledon.
B. Shoot regenerated from hypocotyls.
C. Plants on rooting medium.
D. Subculture before transferto greenhouse.
E. Plant in greenhouse
F. Plants in pot growing.

 
Last Updated on Saturday, 28 February 2009 15:34
Slider Gallery
Loading image. Please wait
3:1 non green and green seed (Zs-green gene)
3:1 non green and green seed (Zs-green gene)
BNL Biology Department
Biodiesel become clear after washing a couple of days in room temprature
Biodiesel from camelina seed (top layer) before washing with water
Biodiesel is washing with waters
Camelina plants selected by basta after 10 days
Camelina plants selecting by basta 1 week
Camelina_oil
Camelina_oil_2818_1
EXPRESSION OF THE Ds-Red GENE IN THE TRANSGENICPROTOCORM-LIKE BODY OF THE Dendrobium
Expression of gus gene in rice seed
Extract_camelina_oil
Green_red_yellow
Green_red_yellow2
John_tam
NPLC_california
Soy_astaxanthin
Soy_astaxanthin3
Steps of rice transformation
T-seeds1
T_seeds2
Tam_camelina_oil
aborted_seed_4
aborted_seeds_1_2_1
aborted_seeds_5
basta_selection1
basta_selection2
basta_selection3
diagram_fatty_acid_seed
fad2
fad2_WT
green_yellow_in_Ecoli
green_yellow_red_wt
kasII_HPAS
omega-7
pBinBarC25F5K2FatB-HP
pBinRedC25F5K2F1
plant oil conference at Texas